KNOW YOUR SURGEON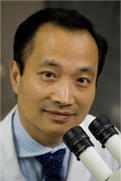 # of Laser Vision Correction Procedures:
o 55,000 and over 4,000 of those procedures were on doctors.
o This gave Dr. Ming Wang the name 'the doctors, doctor'.
o Harvard & MIT (MD, magna cum laude); PhD (laser physics)
o Wills Eye Hospital (ophthalmology residency)
o Bascom Palmer Eye Institute (corneal fellowship)
o One of the few LASIK eye surgeons in the world today who holds a doctorate degree in laser physics
Why did you choose to specialize in laser vision correction?
I have a doctorate degree (PhD (laser physics)), and another doctorate degree in medicine (Harvard & MIT (MD, magna cum laude), specializing in laser vision correction allows me to combine the expertise in these two areas, and become a unique laser eye surgeon who not only knows medicine, but also knows the laser technology.
You want a laser physicist, to perform your laser eye surgery.
What is your favorite part about being an eye surgeon?
Helping a patient come out of darkness, into sight!